Oct 12, 2006
Robelyn Labs' Elastin3 Listed As An Alternative To Surgery in Pregnancy & Newborn Magazine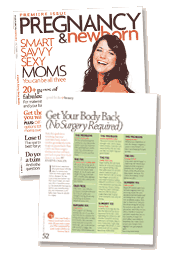 Elastin3 is formulated with the cosmeceutical industry's most advanced result-oriented ingredients and is the only stretch mark therapy that includes the powerful peptide Argireline. Research has demonstrated this unique peptide can reduce skin surface muscle contractions and diminish the depth and length of stretch marks and wrinkles. As part of Elastin3's formula, Argireline combines with our high potency Elastin, Collagen, and Soy to produce an advanced stretch mark therapy.
Recently Elastin3's exclusive formulation was recognized by Jennifer Cavalier in the October issue of Pregnancy & Newborn as an alternative to surgery. The body's ability to bounce back post-birth is amazing, and while surgery is always an option, helping your body heal itself is a viable and safer option. Advances in the research and development of skin care and skin care ingredients have led to increasingly beneficial ingredients that help the body's natural healing process. Elastin3 is the result of the latest research into skin care and specifically maternity skin care.
ABOUT ROBELYN LABS
Robelyn Labs specializes in offering safe, effective maternity skin care products intended to alleviate or remedy common skin or body issues and discomfort which occur during and after pregnancy. Robelyn' s best-of-class products utilize the latest skin care ingredients in formulas that offer results and universal benefits. Formulated for sensitive skin, our products are perfect for use by almost anyone – young or old, women or men, with conditions such as stretch marks. Information on the company and its products can be found at www.robelynlabs.com.
Trademarks and register marks are the property of their respective companies.

Editorial_pg52a.pdf

---
"I was at my wits end until I found Elastin3. I had severe stretch marks on my butt and thighs. I tried…"
~Cindy