May 23, 2020
Robelyn Labs' VariClear Mentioned as One of the Best Topical Treatments In First For Women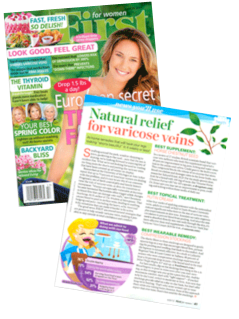 Robelyn's VariClear varicose and spider vein treatment is a safe, inexpensive alternative to surgery that works for any woman or man suffering from varicose or spider veins.
Recently VariClear was mentioned in the April issue of First For Women magazine. Using results from an Italian university study they consider rutin as the best topical treatment for the problem of varicose veins and recognized Robelyn Labs' VariClear as "one to try" for our effective formulation. VariClear not only contains rutin but bioflavonoid (Vitamin P) and grape seed extract, plus we've added a potent hesperidins complex (a different form of Vitamin P). These ingredients have been clinically proven successful in the treatment of vascular degeneration.
ABOUT ROBELYN LABS
Robelyn Labs specializes in offering safe, effective maternity skin care products intended to alleviate or remedy common skin or body issues and discomfort which occur during and after pregnancy. Robelyn' s best-of-class products utilize the latest skin care ingredients in formulas that offer results and universal benefits. Formulated for sensitive skin, our products are perfect for use by almost anyone – young or old, women or men, with conditions such as stretch marks or vericose veins. Information on the company and its products can be found at www.robelynlabs.com.
Trademarks and register marks are the property of their respective companies.
---
"My wife was pretty unhappy with her stretch marks after she had our son. I didn't think they were that…"
~Gene