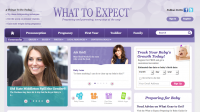 It all started with a baby …and a book. Heidi Murkoff conceived the idea for What to Expect When You're Expecting during her first pregnancy, when she couldn''t find answers to her questions or reassurance for her worries in the books she'd turned to for much-needed advice. Determined to write a guide that would help other expectant parents sleep better at night, Heidi delivered the proposal for What to Expect When You're Expecting just hours before delivering her daughter, Emma.
Dubbed the "pregnancy bible," the iconic New York Times bestseller is now in its all-new fourth edition, with over 17 million copies in print, and according to USA Today, is read by 93 percent of women who read a pregnancy book. Other titles in the series include Eating Well When You're Expecting, What to Expect the First Year, What to Expect Before You're Expecting (a complete preconception plan), and the newest member of the What to Expect family: What to Expect the Second Year, the must-have guide for parents of toddlers. The What to Expect books have sold more than 34 million copies in the US alone, and are published in over 30 languages.
Visit Site
"I had heard a lot about Elastin3 from my friends who had used it with good results. So when I …"
~Georgian Crysty