Pregnancy Gift Ideas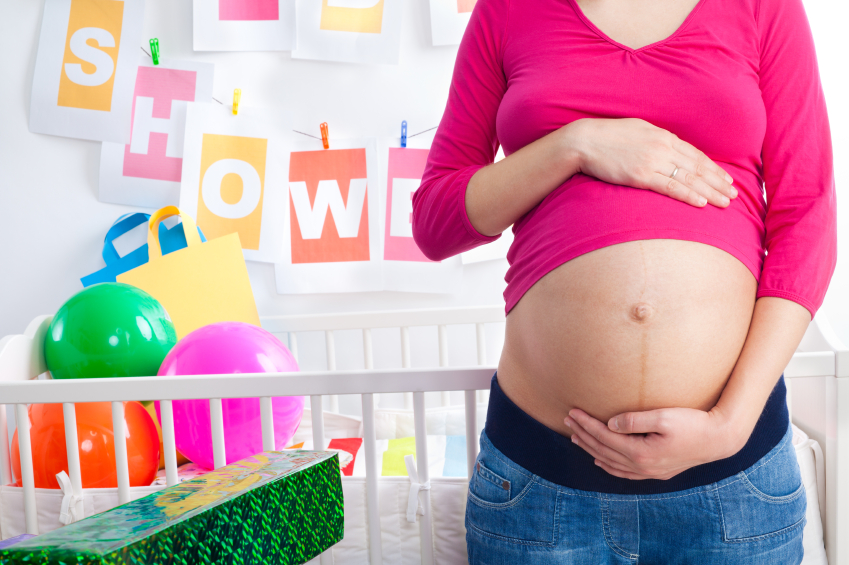 Every time I am invited to a baby shower, I can't help but remember the episode of Friends where Monica and Rachel throw Phoebe a baby shower. They start out buying the traditional baby gifts: cute clothes, etc., then quickly remember that Phoebe is only acting as a surrogate for her brother and his wife, and they figure she will be upset to receive baby items that she will never get to use. So, instead, they decide to have everyone bring gifts she will be able to use after she's given birth. Unfortunately, their gifts don't have their intended effect, and Phoebe laments that, instead of getting to care for the babies, she's going to be "sitting around in leather pants, drinking tequila."
It is true that babies need a lot of stuff, and that a baby shower is a great way for an expectant parent to acquire a lot of the "stuff" they will need for their new little bundle of joy. Increasingly, though, friends and family members of the expectant parents are giving gifts that are untraditional - gifts geared toward the needs of the parents.
How about a gift for Mommy?
Parenthood is wonderful and amazing. But we all know that, once a baby comes along, the needs of the parents become secondary. Which is why I'm in favor of gifts that cater to mommy: during pregnancy and after delivery.
It's common knowledge that pregnancy is not easy for many women. And even the woman who manages to get through the entire 40 weeks with a spring in her step and a smile on her face is sure to have dealt with swollen ankles, mood swings, morning sickness, and/or skin problems at some point.
One of my favorite traditions when shopping for a baby shower is to make sure that, in addition to a gift from the baby registry, I get something for mommy. In my experience, I've found several gifts ideas for the expectant or new mommy.
Skin Care - While some women are fortunate and benefit from amazing pregnancy skin, most are not so lucky. Robelyn Labs' product line addresses some of the most common pregnancy skin concerns. From Elastin3 – an amazing stretch mark prevention treatment– to VariClear, for the prevention and treatment of varicose veins.
Spa Days - new mommies will be spending long hours and nights caring for their new born. And it's nice to provide mommy with a little break to spend some time to herself so she can relax. Some spas are now even combining mommy spa sessions with an in-house babysitting service - so moms can relax and have your little darling nearby too.
Coupons for babysitting - naturally you'll have to have the trust of the new parents that you're able to care for their bundle of joy - but if you do - then providing them with a few hours of peace and mommy and daddy time can work wonders to restore them. Asking someone to babysit can be awkward - so if they're already aware you're happy to help out and can simply redeem your coupon, it's one less bit of stress for them.
House cleaning gift certificates - lots of new moms underestimate the time, attention, and lack of sleep that will combine to keep them zombie-like after caring for their baby all day. So chores and house cleaning often fall down the ladder of importance. One of the nicest gifts I received was a series of gift cards for a local cleaning company from a friend who already used them. She arranged for weekly visits to tidy up my house which helped me keep my sanity and prevented an accumulation of killer dust bunnies.
Buy the cute baby gifts, but remember mom and dad too
The next time you're invited to a baby shower or to a party for a new born keep the new parents in mind too. By all means, shop for the cute baby clothes and cuddly toys but if you can, get a little something for the two bleary eyed parents as well.
---